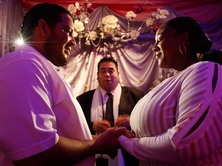 So we have all heard of people picking 11.11.11 as a date for big events in their life like: marriage, births (they're trying at least), commitment ceremonies, etc. Even people not interested in Numerology or the metaphysical have paid attention to this date.
Don't Believe me? Here's the L.A. Times
slideshow of weddings around the world that chose this date for its symbolism.
(I also highly recommend you look at photo #4 in the slideshow. WTH!)

One caption describes a pastor's wedding bookings for the day from 6AM to 12AM midnight! Can you imagine sending out invitations for a 6AM wedding? If I were to get an invitation in the mail for a 6AM wedding, I would have a number of questions rolling through my mind... One: Is there enough concealer in the world to hide the circles under my eyes at that hour? Two: Would coffee and danishes be served?