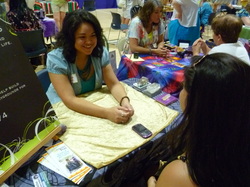 Last weekend, I participated at the
Spirit Seeker
Magazine's 26th Annual Wholistic Living Expo!
http://spiritseekermagazine.com/expo/weeblylink_new_window
It was my first time working an event like that and if someone were to ask me a few years ago if I saw myself doing readings at a public event, or even readings at parties, I would have flatly and honestly responded with a "No way!".
That's because up until a couple years ago, I still very much struggled being in my own spiritual skin to say the least. As a child and through my teens, I struggled with embracing my psychic side because it didn't seem to fit in with what society was comfortable with. That coupled with what was embellished in movies only fueled my fear that the devil was sure to get me.
When I was younger, I had a constant duality within. In one corner, my psychic self struggling to be heard enough to guide me, facing off with my ego self in other other corner trying to keep me from being singled out as "different" or worse... labeled as a freak or devil worshipper.
In my early twenties, I had already had a number of experiences that were entwined with people I had encountered in life.