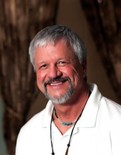 I've started a new series of classes that were organized and initiated by my mentor
Lisa-Serena
. With this series of classes, she wanted to introduce us to local experts in the metaphysical world to discuss their particular area of study. The series started off with introducing us to
John Vlasich
to discuss Shamanism and energy work.
I've been indirectly in familiar with John via friends on Facebook, but this was my first opportunity to meet him personally and introduce myself. To say I've been looking forward to the class is a complete understatement. Which is interesting, since I had limited knowledge of him, but my spirit, my true-self was "giddy" and I trust that it knew what was about to happen.
Some of my excitement
starts with a symbol that came to my Third Eye, about 2 years ago...