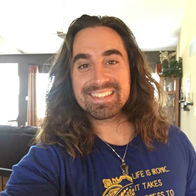 I wanted to take some time to introduce a local healer that I recently had a session with, Kyle Foster. He humbly asked me to leave a review on his page to provide feedback about his services and I figured I'd do even better by writing up a post on my site so I could easily introduce my clients to him.

Introduction and Testimonial of his work:
Initially I was introduced to Kyle in the digital world online after I saw we were of like mind and services. Not soon after, serendipitous events brought us to meet in person – starting off at a crystal bowl meditation I was invited to and was soon followed with a session I booked for energy work.
​
Online Kyle exudes a light-hearted energy with a passion for anything and everything spiritual. That enthusiasm is authentically felt when you meet him in person. His energy has a bohemian feel, like a native Californian that somehow found his way to the Midwest, and is coupled with the excitement of someone that is embracing the adventure of spiritual discovery. He was quick to share his story of starting off as an electrician that listened to his spirit and instead chose to follow a path of studying alternative healing practices and methods like massage, QiGong, crystal bowls and more. He seems hungry to continue studying different modalities, so I can only imagine how he'll continue to develop and build his services.