So this past winter, I had one of those moments. No, I'm talking about a "senior moment" – heck those happen all the time. I'm talking about a "Made-me-Think" moment.

Y'know, one of those moments that interrupts your typical cycle of thoughts - thoughts centered around the numerous things you need to remember, the questioning if someone is going to call or is thinking about you, or really any multitude of thoughts that keep us from really being present. Those moments that stick around… for a while... always hanging out in the background of your mind waiting for the right time to step in again.

My moment was simple really. It was blistery cold morning, as we had an unusually frigid winter, and I was headed in to the grocery store to grab some goods for a food day at work. As I pulled in to the grocery store lot, there was the quick shuffle of people in and out as they tried to shelter themselves from a wind-chill that I remember made me feel like my cheeks could chap.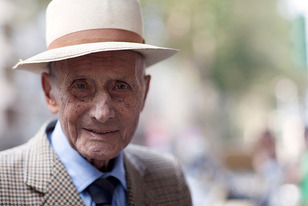 Though it was sunny, it was still bitterly cold. I headed towards the store front as an older gentleman was exiting the store. He and I seemed to catch each others gaze and I kept my attention on him as we approached each other. We both smiled like we knew a little secret and he grinned from ear to ear as he said "Good Morning!" through his smile. I mirrored his sentiments with sincerity in my "Good morning to you!" and my smile grew just as large.
I mentally paused because in that one moment I didn't feel like we were strangers at all as we shared those simple-yet-often-dismissed sentiments. It felt like we exchanged a hug without actually hugging at all. I felt like he and I really DID know a secret. It took presence,

really

being in the moment to recognize each other. The compassion in his sentiments were palpable and I truly believe he felt mine in return.
The moment only lasted a minute if even that, but lasted much longer in my thoughts as I browsed around the store for the items I intended to grab. I thought about how many other individuals were in the parking lot the same time he and I were, yet they were completely off in their own worlds - Lost in their heads, looking at the ground, or lost thumbing through their newsfeed on their phone. How sad I thought. He and I seemed to be the only two that seemed to notice one another and validate each other.
I thought about how it used to be in quieter times when people greeted each other on the street or sidewalk as they passed and as his generation continued to shrink, it was being replaced with a growing number of individuals that seemed more and more disconnected from each other. I thought of how many times I'd heard someone say "Good morning" as they rushed past with little to no eye contact, or in a manner that seemed like a pre-programmed robotic response with little emotion behind it.
I hear time and time again from people how disconnected they feel and how much they long for love in their lives, want deeper connections with friends or feel completely lost without knowing who they are. Why? How do we get there?

It's interesting how hungry we can be for these absolute necessities in our emotional worlds. Yet, it can be incredibly difficult for us to recognize the multitudes of opportunities for us to connect with one another because we're too busy stuck in our own worlds.

I see it as an opportunity…a hunger of my own to remind people what it's like to truly feel connected to each other. What it feels like to do actions out of love and validation of each others worth; instead of doing empty actions out of habit, obligation, expectation, or accolades. To recognize and validate each other, whether it's a smile, a hug, or holding the door open for another with true presence and connection behind it.

This Made-me-Think moment stuck with me and became one of the bricks to start off the foundation to an idea, one that woke me up at 2 am and wouldn't let me sleep afterwards. I look forward to posting about it soon as I smooth out the details and get things put in to action.

Until then, I hope you start each and every day looking in the mirror smiling at the awesomeness of you. Seriously. Do it! Recognize it, own it and spread that message to people you meet and greet throughout your day. You never know when it will become their made-me-think moment and feel like the most perfect hug they needed deep inside.

Cheesy? Yes… but it doesn't make it any less true.


With love and gratitude,

Like what you're reading?

Consider subscribing to my

mailing list

to make sure you always get the latest blog posts, announements, promotions, tips, etc.

Questions?

Feel free to ask!

Contact me directly.