Following
part one
of this series, l
et's begin part two of "Five tips for love using the Law of Attraction"…
The first post had the mantra of taking care of your inner garden. The environment within as being the cultivating ground for what you want to grow and flourish in your love life.
Now it's time to focus on some of the environment outside of yourself; it's about ambiance. We can take care of the energy we have within and do our best to stay focused; however, it's so easy to get distracted and off course by little things that cross our paths in the day.
We've all been there… wake up in the morning, take a deep breath and say our feel-good mantras for the day as we leave the house feeling like we can tackle the world. We have our love-plan in mind on how to keep the good vibe going when it comes to our relationships.
Here's a scene that is probably familiar to many of you...
The radio is on in the car as Adele plays through the speakers. Her voice cracks mid-note as she pours her heart out expressing unrequited love for the one she pines over after they left her. Pure, raw talent expressing emotions that millions of listeners can relate to in their own love lives… Step in to the office to overhear the latest celebrity gossip of two Hollywood A-lister's that seemed to be one gorgeous match made in heaven, blindsiding their fans with the announcement of a split.

All around us there seems to be chatter of impending doom to relationships. Definitely not something conducive to our morning mantras and goals to keep our love-intentions moving in the right direction. So how do we combat the nega-vibes that surround us that indirectly seem to give permission for our fears and insecurities to back to the forefront of our mind? I use music.

When I'm in the office, I'll listen to playlists I created that are alignment with my goals and intentions. When related to love, it's important to have music that nurtures and give you the desired emotional response of what you're focusing on in your personal relationship whether it's your own healing, attracting, or nurturing of love in your life.

So here is a list of songs (in no particular order) that have personal meaning to me that help me get back in the right mindset and emotions: (I'll keep adding as I get my hands on the rest of my library. Darn iOs update)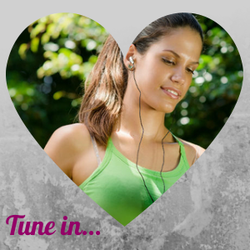 Falling Slowly – Glen Hansard and Marketa Irglova

The only exception – Paramore
Chasing Cars – Snow Patrol
Question – Old 97's
Turning Page - Sleeping at Last
Jungle Drums - Emiliana Torrini
Beacon - A fine frenzy
Arms - Christina Perri
Half Life (Instrumental) - Imogen Heap
Yellow - Coldplay
Young and Beautiful - Lana Del Ray
Little Numbers - BOY
I will follow you into the dark - Death cab for Cutie
Elements (Orchestral Version) - Lindsey Sterling
Such Great Heights - The Postal Service
Don't look Back - Télépopmusik
Just say yes - Snow Patrol
Passenger - Lisa Hannigan
I'm all yours - Metric
When I fall in Love - Nat King Cole
The Way I Am - Ingrid Michaelson

I'm Yours - Jason Mraz
Let it Be - Blackmill
Cosmic Love - Florence + The Machine
Gimme Sympathy - Metric
Dead Sea - Lumineers
Come away with Me - Norah Jones
Breathe (Ext version mix) - Télépopmusik
Just the way you are - Bruno Mars
Dreamer - Elizaveta
July Flame - Laura Veirs
I love You - Alex Clare
Pleasure Songs - The Mary Onettes
Big Jumps - Emiliana Torrini
Unforgettable - Nat King Cole
I will be blessed - Ben Howard
I'd rather be with you - Josh Radin
One Day - Melody Gardot
Stay - Rhianna ft. Mikky Ekko
Warning Bell - Butterfly Boucher
She is Love - Parachute
We get on - Kate Nash
Sexual Healing - Marvin Gaye
Like I do - Minipop


Note: Keep in mind the trick is to pay attention to YOUR emotional reaction to the songs that uplift you and get you in the right mindset. Tune in to tune out all the stuff that brings you down. Some of the songs on those list might feel heavy to someone, where I find beauty in it. My emotional association is a positive one, where it may not be the same for you. So keep that in mind. It YOUR list.

So hop on your computer and iTunes and start whipping up a list for when you need a nice pick-me-up. I'm always hunting music down, so feel free to comment and let me know what's on your list!



---
Like what you're reading?

Consider subscribing to my

mailing list

to make sure you always get the latest blog posts, announements, tips, etc.

Questions?

Feel free to ask!

Contact me directly.