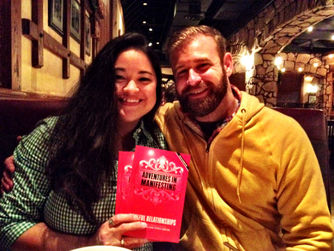 Pinch me because I still can't believe it!

After I posted a few photos on social media that my books (shipment) had finally arrived I received a slew of encouragement, support and congrats from all kinds of wonderful people. Love you all!!!

Sprinkled in the feedback were a handful of surprised responses not even knowing I had published anything.

Well…. That's kinda my fault. You see, it still wasn't real to me!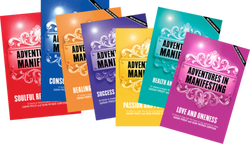 In high school I loved writing and really enjoyed creative writing and was encouraged to keep it as a creative outlet. My confidence in writing was pretty healthy after the positive responses in that environment.

Then college came. Along with two professors with a chip on their shoulder that could care less about anything our papers actually said... I could've written about cats and they wouldn't have even noticed. They sadistically enjoyed whipping out their red pen marking up papers until very little white space (and confidence) was left.

I was done with writing at that point and it intimidated the hell outta me.

Then earlier this year Sarah Prout found me and invited me to work with her and her husband, co-founders of Älska Publishing.

She found me through some twitter posts and reached out to me about a series of books they publish called Adventures in Manifesting. I like to think of the book as the love-child between The Secret and Chicken Soup for the Soul focused on how heal, create, and attract meaningful relationships in our lives.

She liked what I tweeted and the handful of blogs posts on my site and wanted to know if I'd be interested in looking at a couple of projects they had in the works and sent me along the creative briefs to look over.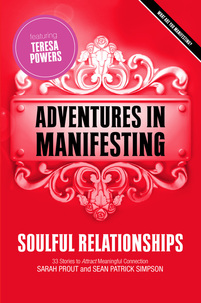 I was immediately drawn to the Soulful Relationships topic and quickly thought of a few personal experiences that I felt could be a good fit come to mind, so I sent her my ideas not expecting much of a response since I found it crazy she somehow found me in the maelstrom composed of the millions of digital posts, tweets and webpages.

My eyes widened as I was stunned to read her response that she was ecstatic about my ideas and even had goose bumps. That's when I realized she is like a magical unicorn because I still had no idea how she found me on the big bad web of billions of people. In addition, her enthusiasm and belief in me to be a part of their project washed away the intimidation of the red pen.

Boom! Her energy and confidence in me healed an old wound within those few sentences of her response. Yup… that's the magical ability we have to heal each other.

I always knew I wanted to write a book and even talked about it the last year or two, but I had to overcome the intimidation of writing and wasn't sure how the heck I was going to do that. Then she popped up out of the blue with her opportunity. Whoop whoop! Gotta love it!

Onward with the story though!

So I wrote my chapter, submitted it for editing, approved edits, paid for copies of the book and received their updates on the project as it was on its way to the printers. Yet it still didn't seem real to me, so I didn't say much about it other than to a handful of people that I shared my draft with.

It was so unreal to me I even forgot to tell my mom about it until it was at the stage where it was already off to the printers.

I received tracking numbers for the books I paid for… yep still not quite real… Then they arrived!

They're REAL! I sound ridiculous I know. Even opening to the table of contents I look and think, "Hey that chick has the same name as me! Oh yeah that IS me! How did that happen!?"

Gotta love the universe [God]!

Now to practice my signature and horribly bad handwriting to sign some books. (Which feels so weird to me)

PS - I'm apologizing upfront for my chicken scratch hieroglyphs that I try to pass off as handwriting. I blame it on the stubs… and *shush* to those of you that point out I am right-handed!

Want to get your hands on a signed copy?