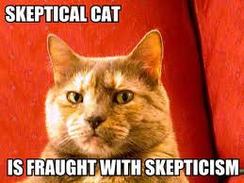 Yup folks! I'm sure you already knew that. You may even think that ALL psychics fall into that category and you have a right to your opinion.

But stick with me just a little longer and I'll spill the beans on what got me worked up last year enough to provoke a post, and what I hope to do about it.

When it comes to people's opinions of psychics, there are many different camps ranging from "total skeptic" to "unconditional-believer". However, the increase of psychics and paranormal shows hitting mainstream media outlets proves there is a growing curiosity and possibly a growing belief in things unseen.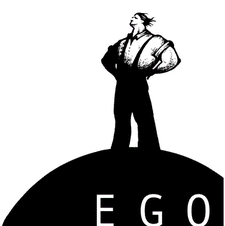 I happen to fall somewhere in between. I'm a rational and logical thinker, yet I'm also a spiritual being that has experienced incredible things that logic doesn't always explain. When I meet another psychic, there is a lot of assessment I go through and I am the type that likes to experience someone's services to know how I feel about endorsing them. Yet, sometimes I don't even need to experience someone to already know where they are coming from by instead observing them interacting with clients and peers.

In no way do I want to be perceived as being critical of others in the industry. I've simply seen others label themselves too quickly and loudly as 'having profound abilities' that it almost screams "Ego" at me. Especially anyone that presents themselves in a competitive manner with others by saying their 'gifts' are better or by boasting an accuracy percentage (which is impossible).

Personally, I am a FIRM believer that we ALL have psychic abilities, that it is our natural state of sensitivity. It is the reason I chose the domain "our psychic powers" because learning to get back to honoring ourselves as we were divinely created is a shared experience, not one owned by the psychic. So I am leery of anyone that gives off the impression that the show is all about them. The experience should be all about the client and how we can best serve them.

An example that I want to share with you happened some time last year. This incident happened when volunteering my time and services to help raise money for a group. I wasn't the only tarot reader present and am always glad to see others helping to spread positive energy by offering their services up as well. That immediately impresses me, so I was happy to be amongst others that provide their services as well.

I had worked with this group in the past and noticed some volunteers from the year before. I was running a tad late and didn't arrive as early as I would have liked and a line had already formed of eager guests ready to have a reading. A guest or two from the year before were excited to see me arrive and had actually special requested me as I must have read for them last year.

Now I say 'must have' because I don't often remember my readings. Not because I don't care, but out of respect for the individual, I don't attempt to remember anything about those I've read. I feel the information I receive on their behalf is not mine to own. It is theirs... I simply play a small role in communicating it as clearly as I can and was truly humbled that some were so eager to see me.

I went in to the room to set up and was greeted by one of the past tarot volunteers. I hadn't had a chance to talk with her the year before as we were super-busy and she was set up in a different location. This year there were less volunteers so we all set up in the same room. Immediately, she goes into conversation about her interests and topics on her mind. She keeps going and after some time passed, I wondered to myself if she was anxious and was talking out of nervousness because I found it odd that the conversation was all about her. It didn't hurt my feelings... I just knew my attempts at mutual conversation were futile and would look for someone to chat with later.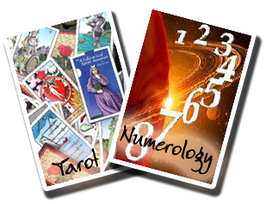 Then I pulled out my decks and she exclaimed "Oh! I know those decks!" and told me how she has been reading tarot for over ten years, which to me, had her learning in her late teens because I assumed she was my age. She said it with lilt in her voice as if she had mastered the knowledge of any and all tarot. I just went about my business as she proceeded to dominate the room with her own conversation.

To give a low-down of what to expect, with all my readings I start off with a snap shot of the guest's personal Numerology: Life Path Number, Current Cycle and Future Cycle if time allows. Then I proceed to have them pull some cards and up the ante on my psychic antenna. I set my timer for about 15 mins, to give me a gauge on time. Though I may be volunteering my time, in no way do I feel I need to shorten the time or give less of a reading. I want people to keep coming back to these events knowing they will get quality service, and will hopefully spread the word and raise more money for the organization.

So imagine my confusion when a few minutes later they started to let guests in and we both were sat at the same time. I was only about five minutes in to my reading with my guest when her guest got up and left her table. I noticed this and looked to see if there was something wrong and saw that she was indeed done with the reading she provided. I was completely puzzled by this and went back to my guest and finished my reading after my timer went off. I was sat a few more times and was in 'my zone' and didn't pay attention to much else and was able to relax a bit when we hit a quiet moment.

That's when, one of the other volunteers took advantage of the unexpected lull and sat in front of the other reader and said she'd like a reading. Out of respect for their privacy, I grabbed the Shape magazine I brought in hopes I would spontaneously make myself fit by osmosis. Damn... didn't work. I stopped and noticed the reading hadn't started, that the girl was talking on and on about other things. The volunteer requesting the reading, stopped her and said she really DID want a reading and that she had purchased a ticket. I had looked up and the other reader glanced at me with in an almost embarrassed manner which only confused me. I went back to my attempt at thinking-myself-thin, only to be distracted by the curiosity of how she gives a reading since there is an infinite number of ways to do one.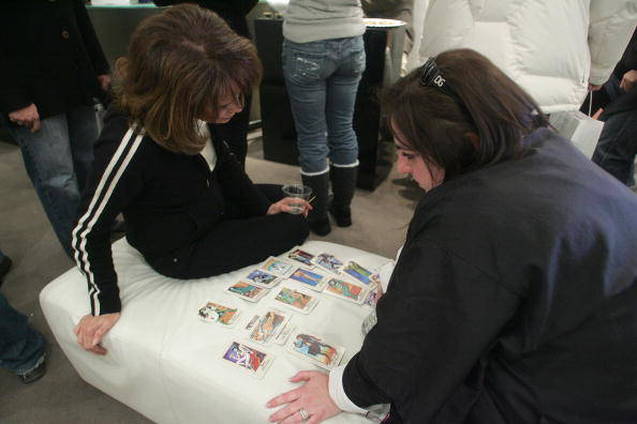 Someone giving a reading, using a spread similar to the Celtic Cross
I glanced over and saw she uses a Celtic Cross spread, which gives a LOT of information as it uses ten cards within its layout. I was impressed because I myself haven't found it easy to use a particular layout, I use more of a free-flow method. At least that is what I call it. My gaze went back to my magazine as I heard her tell the woman "I see you have some choices....*silence*". The volunteer kindly said that would make sense as 'she often has many choices to make' (or something to that effect) as a gentle response trying to evoke more detail as to what the tarot reader saw for her. Well, the gentle-message was missed by the reader and there was no other information given other than the woman would need to 'take a nap after she made her decision'. Trying not to react, I decided I had heard enough of this 'experienced reader's' capabilities. In fact I was in a bit of shock at what I had just witnessed and was thankful when a guest came in and sat in front of me. Sweet relief! Back to work I went.
We finished the day and I had lost track of how many readings I had done. I felt wonderful with some of the new connections I had made, and I had some readings that just really humbled me and made me yearn for quiet time to contemplate what I learned from them. In addition, I was left with a mixture of emotions after witnessing the 'reading' mentioned earlier.

I brought up this story because there are a number of things I learned from it that I want to share... It made me question how I carry myself and what service I provide to clients, which is why I set up a client satisfaction survey.

It also had me think of my mentor and psychic-big-sisters that encouraged me to take the bold step of doing readings. They saw something in me and had faith in me and my abilities when I didn't have full faith in myself. Starting off, I REALLY struggled with the idea of accepting money for doing a reading, let alone thinking about marketing myself. I felt trying to get my name out there would be like me trying to shine a spotlight on myself saying "Hey! Look at me!". But after witnessing that reading, I realized the other reader was an example of some of the other readers out there that still have some work to do.

There are some readers and psychics out there that like feeding their ego and their pockets more than they care to help you. That truth angers me.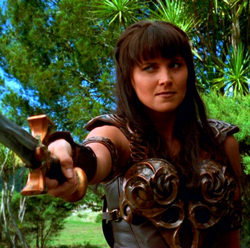 Crappy psychics... you better check yourself!
So I now have a psychic-Xena-battle-cry: to provide the best service possible to you by helping shine light on those that are 'Lightworkers' in the St. Louis area.
I realized that unless I make myself easier to find by putting myself out there on more channels, volunteer, etc. Then people won't be able to find those of us that are true in our intentions.
Personally, I know and am affiliated with some incredibly wonderful and talented psychics. I know where their heart is, I know what ethics they follow, I know and have witnessed how they are in service to others... and I want to help you connect with someone that feels right to you.
Ways I'd like to do that:

Informative blog posts that help explain the different types of services provided so you know what you're looking for.
Blog posts that interview and highlight individuals I personally support, my experience with them, as well as information as to why they made my list.
A directory of services and providers - A system that will help you find the right person to help you with what ever service it is that you're looking for whether it be: Holistic medicine, Alternative Healing, Reiki / Energy Work, Psychic-Mediumship, Psychic-Intuitive Readings, Readers for parties, etc. (still working out the logistics)

Bottom line, goal is to provide a one-stop resource that better serves our clients and customers in the area.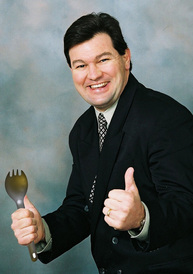 In the meantime... I need to think of what I can come up with to show my 'approval' like this guy. Not only does he give a "thumbs up" he does it with a spork in hand. Lol.
*if you've had a poor experience with a psychic or charlatan out there, please sound off!