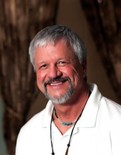 I've started a new series of classes that were organized and initiated by my mentor
Lisa-Serena
. With this series of classes, she wanted to introduce us to local experts in the metaphysical world to discuss their particular area of study. The series started off with introducing us to
John Vlasich
to discuss Shamanism and energy work.
I've been indirectly in familiar with John via friends on Facebook, but this was my first opportunity to meet him personally and introduce myself. To say I've been looking forward to the class is a complete understatement. Which is interesting, since I had limited knowledge of him, but my spirit, my true-self was "giddy" and I trust that it knew what was about to happen.
Some of my excitement
starts with a symbol that came to my Third Eye, about 2 years ago...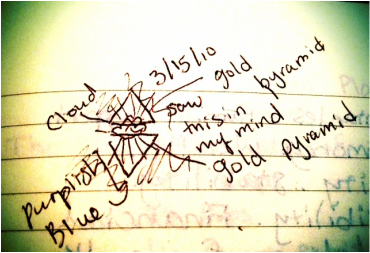 Some of my notes about what I saw.
Two years ago, I was sitting on my bed shuffling one of my Tarot decks. I simply wanted to connect with my deck and spend some quiet time to myself. All of a sudden an image appeared in my Third Eye vision. Which isn't common for me during the waking hours, because typically I allow information to simply be "Known" during my waking hours. The sudden appearance didn't startle me or scare me, it intrigued me and I knew I had to make a note of it and sketch it. So I grabbed my notebook and quickly recorded everything I could.
The image was of a deep indigo purple that surrounded two metallic pyramids that mirrored each other, only separated by a small space. In the foreground, there was a brilliant eye that was surrounded by a robust cloud and from within the cloud emanated intense rays of light that reached out from behind the cloud as if their light couldn't be contained. The image appeared two-dimensional because of the way my third eye "sees" images as if it's being projected onto a movie screen. However, I could FEEL the dimension and depth to the image, which was difficult for me to portray in my drawing. The notes I jotted down immediately after the vision were dated 3/15/2010.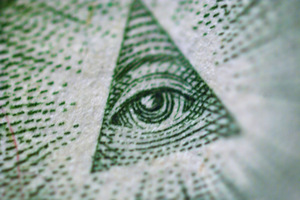 The eye of Providence, found on US Currency.
I briefly tried looking up the symbol to see if I could find more information about it, but would hit a brick wall only to find things like "The eye of Providence", "The eye of Horus", etc. Nothing that felt like "IT" when it came to symbols. So I put it away only to be forgotten about while I was distracted by other things.

It came back to the forefront of my mind when I attended a class about Archangels and received some information from Archangel Michael that had be back on my quest. I made some progress and it connected me to some information that I needed to hear; however, I still didn't have the knowledge I was looking for when it comes to what WAS this symbol and how was I supposed to use it. I gave thanks for the connections it was helping me make and then put it back on the shelf knowing it would reveal it's secrets when I was ready. So back to the class last night...

The group-session and class started off with Lisa-Serena introducing everyone in the group because John hadn't met everyone yet and also because we had two new people attending the class. As a group, John led the intention and energy to create our sacred space. Then with a soft-spoken voice yet booming energy, John introduced himself and started to discuss a bit of his journey and gave us some background information about some of the sacred objects, or totems, he brought with him and how they came into his possession.

The Capricorn and Life Path 6 that I am, I had my notebook and pen ready but barely took a note because I was so entranced by the objects being passed around and the knowledge he shared with us. Amazing quartz crystals, meditation stones, turquoise shell, and blessed objects were passed from hand to hand. The energy from each object was so mesmerizing that it was difficult to pass the object on because I was absolutely intrigued with each item and the history they held.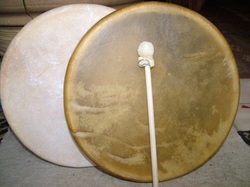 John then moved on to his Native American drum, which resembled many I have seen used but have never actually experienced myself. He easily fell into rhythm with his drumming and the tone of each strike was deep and resonating. He slowly turned to face us all as his rhythm continued and as the drum's energy faced you, you could feel it's tone and vibration resonate and flow through you. It's very hard to describe the experience of the drumming and the multifaceted tone that emanated from it. I highly encourage everyone to experience it for yourself.
We then moved on to a guided
Chakra
meditation, which at times can be difficult for me to fall in to because like everyone else, I have to move past my "thoughts" to reach my "being". Once I started to slip into it, it was easy to fall into the groove. So peaceful and enlightening as we worked with each Chakra's energy. Absolutely peaceful and makes me feel my connection with the beauty of God and creation-energy.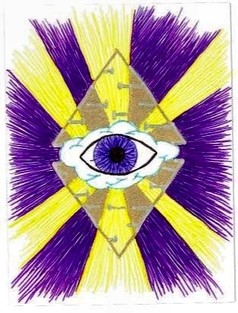 My drawing I showed John.
The thought came to me to ask John if he had ever seen the symbol, and I was happy that I carry the drawing in my notebook. I'd be happy with any nugget of information he could provide and approached him with the small drawing. He looked at it and immediately responded that he knows exactly what the symbol is and that is is written about in the book
The Keys of Enoch
, by Dr. J.J. Hurtak.
I was taken aback because his response was completely unexpected. My ego-self, felt the image and what it meant, may never be found. That it was a "product of my imagination", etc.
Even though that is what the Ego would like me to believe... I knew with my true-self that it had meaning and that it wasn't contrived. I just knew it was worth seeking out.
So to have someone validate with their certainty that the symbol is a known symbol to them and to point me in the direction of information about it is HUGE. Why? Because i
t shows how important it is to TRUST the information we receive.
My intentions for this post are simple:
1. To invite you in on the new experiences I have like classes,

to encourage you to seek out your own

experiences.
2.

TRUST yourself!
If that experience had happened to me years ago, I would have dismissed it as crazy because I lacked the confidence in my own abilities by not embracing them. Or that I was making it up in my mind. Imagine how many times you get an inspiring thought, or "knowing". How many times did or do you allow your ego-self to dismiss it? The more and more you follow your own compass and psychic-intuition. The more and more your True-Self, the real essence of you will be heard. Our True-selves are most directly connected with God, Yaweh, the "I Am" energy [what ever you're most comfortable with].
3.
To document this new stage of the wild and exciting adventure
of finding out where these bread crumbs take me. Who knows what will resonate with me from the book. It might be a nugget or two of truths that resonate with my beliefs, or it might be the whole thing in it's entirety. Who knows!?! That's the exciting adventurous part of it.
4.

To introduce you to a couple Local Light-workers: Lisa-Serena and John Vlasich
. Their introductions are the start of many I hope to bring you. I want to help educate people as to the various services people provide, what to look for as well as who I recommend based on my experience with them. So expect more introductions to people in the area and more in-depth information as I update my blog.