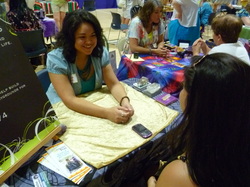 Last weekend, I participated at the
Spirit Seeker
Magazine's 26th Annual Wholistic Living Expo!
http://spiritseekermagazine.com/expo/weeblylink_new_window
It was my first time working an event like that and if someone were to ask me a few years ago if I saw myself doing readings at a public event, or even readings at parties, I would have flatly and honestly responded with a "No way!".
That's because up until a couple years ago, I still very much struggled being in my own spiritual skin to say the least. As a child and through my teens, I struggled with embracing my psychic side because it didn't seem to fit in with what society was comfortable with. That coupled with what was embellished in movies only fueled my fear that the devil was sure to get me.
When I was younger, I had a constant duality within. In one corner, my psychic self struggling to be heard enough to guide me, facing off with my ego self in other other corner trying to keep me from being singled out as "different" or worse... labeled as a freak or devil worshipper.
In my early twenties, I had already had a number of experiences that were entwined with people I had encountered in life.
Experiences so strong that I couldn't deny their intensity or ignore them, even though I tried. A few of these experiences would have a profound effect on people I shared them with by offering them understanding with a situation they were troubled with and in a couple cases, give them the peace they desperately longed for to overcome their grief. Their receptivity towards the information I passed on to them puzzled me, yet humbled me. I expected them to be ready to burn me at the stake or look at me with judgement., instead they appreciated the role I played in their life. This led me to seek out information and start my journey towards acceptance and spiritual growth.

Move forward in time to a few years ago. I had already studied a number of metaphysical topics and read books by many psychics, but I still hadn't found a mentor to hold my hand and guide me through those last few steps of fear. Then I was given a local psychic's number and found her site online.

After a couple e-mails back and forth with Lisa-Serena, she invited me to meet her and a group of like minded friends. As anxious as I was leading up to it, my intuition kept nudging me on to go and meet them all.

I met Lisa-Serena and her incredible group of friends and was elated to finally feel I found a group I belonged with. She has been an incredible source of inspiration and is always my go-to for information. She instantly became my mentor and I credit her for helping me get to where I am on many levels. I call our group of psychic-sisters the PsyChicks, and they have been instrumental in helping me grow and fully embrace my true self.

With their love, encouragement, guidance and support I have gained the confidence to step out of my spiritual closet. To boldly expose myself to the public's eye by participating in the Wholistic Expo for the first time. In the past I used to feel vulnerable to those that knew of my abilities. Now, I feel I have grown up and I have empowered myself by knowing that the intentions I have with all my readings are for the highest good of all those involved. That I do my work out of love, and not judgement of another.
I was excited to be amongst the incredible people I met at the Expo: vendors and guests alike.

A week later, the door of my spiritual closet is now tightly shut behind me and I don't plan on going back... It feels good!

Love and light to you, Namaste.